High-Quality Swimming Pool Construction in Adelaide
H F Home and Pool Construction Services is one of the most vetted names in concrete swimming pool construction in and around Adelaide. Led by Hussain, we are a fully licenced swimming pool construction service provider with 20 years of experience, offering swimming pools at single and double-story residential as well as commercial properties.
Since the start of our endeavour, we have gathered enough skills and knowledge that have turned us into one of the most trustworthy names today. Indeed, with the latest tools and technology, we pride ourselves in offering a service that has quality, professionalism, reliability, and class written all over.
The Salient Features of our Pool Construction Service in Adelaide
We at H F Home and Pool Construction Services Pty Ltd come up with custom-designed swimming pools. Therefore, when you hire us, we specifically design and price your project based on your family or site requirements. This means…..
Our pool construction in Adelaide does not have any hidden costs like tip fees or upselling of products
We have a tremendous eye for details, with a dedicated project manager managing the project right from planning to quoting, through to scheduling, till the completion and handover of the final product. This means, all throughout the project, you have a Single Point of Contact (POC) with whom you can exchange your ideas, and convey your suggestions. This also ensures we come up with a result that meets your aesthetic and functional needs.
Not only are we a fully insured and licensed swimming pool contractor near Adelaide, but our team is also made up of some highly qualified professionals with years of experience in the swimming pool construction industry. This ensures our project always uphold the relevant Australian Standard at its highest level.
All throughout we maintain transparency, which speaks for our honesty, integrity, and reliability. We treat every project we undertake with the same dedication, attention, and care as if our very existence as a service provider will depend upon its success. This quest for excellence and an effort to raise the bar of quality are the cornerstones of our success as a service provider.
Our swimming pool construction cost in Adelaide is always competitive, and this proves that even though we never compromise on quality, our service will not put any pressure on your wallet.
We Design and Construct Concrete Swimming Pools for….
Aquatic Centres
Resorts and Hotels
Individual homes
Motels and Caravan Parks,
Residential & commercial apartments
Schools
Water play parks
Some Words About Our Swimming Pool Construction in Adelaide
Our swimming pool construction generally takes 3 to 6 months, depending upon the dimension of the job, the difficulty level, the products that are needed for construction, and more importantly, the time frame that has been agreed upon while signing the contract form.
Our custom pool construction in and around Adelaide gets underway with excavation. It takes more or less 1 to 2 weeks to have the concrete shell installed. Once that is done, we will start the tiling that will take 2 to 4 weeks depending upon the dimension of the pool, its design, and the weather (if it's an outdoor project). Besides tiling, we would also complete the piping and run them up to the plant room, have all solar heating, the equipment, and the accessories installed.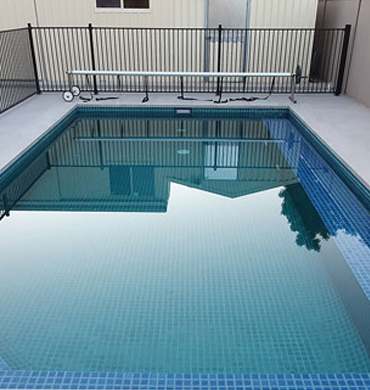 Do You Need the Building Permit?
Yes, you need to have a building permit from the authorities and it takes 3 to 4 weeks to obtain one. However, the time period may vary, depending upon the engineering difficulty level, the proximity of easement, and the distance of the site from your neighbour's property, other existing buildings, and trees. Thus you see we come up with an all-encompassing service, which makes us the best pool contractor near Adelaide whom you can rely on.
When Can Your Pool Be Filled Up?
We won't fill up your pool after its construction, till the pool fence is not installed as per the industry regulations and compliance. In other words, we would at first need your landscaping to be completed before we can fill up your pool.
Thus you see, we will take a thoroughly methodical approach while constructing the swimming pool at your property.
Areas Where We Serve for Pool Construction in and Around Adelaide
Besides Adelaide, we also offer services throughout the eastern suburbs, Unley, Westbourne Park, Kensington Gardens, and Norwood.
To Get Some Great Ideas, Put Money on Us!
Are you looking for some astounding swimming pool construction ideas? H F Home and Pool Construction Services Pty Ltd is the name to put money on. CONTACT US at the earliest to get a free swimming pool construction quote in Adelaide.