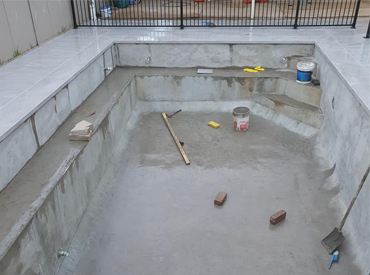 Best-Quality Concrete Swimming Pool Repair and Installation in Adelaide
If you wish to add a beautiful and durable concrete swimming pool in your property or wish to repair the existing one, you need to have skilled builders on your side and we at H F Home and Pool Construction Services Pty Ltd house the best builders in the construction industry with years of experience in concrete swimming pool repair and installation in Adelaide.
A concrete pool is a popular choice as it provides a lot of room for customisations and can last long with proper maintenance. And if you plan to add a custom-built concrete swimming pool, place your trust on our skilled builders as they will construct the pool using advanced tool and techniques.
The builders develop the construction plan after inspecting your property and taking the measurements to build the customized concrete pool. Also, depending on your property, the builders will choose the best quality materials for the installation or the repairing.
Concrete Swimming Pool Renovation in Adelaide by Skilled Builders
An old and unmaintained pool takes the appeal away from a property. So, if you notice damaged walls along with fading colours in your pool, it is time for a renovation. And if you are searching for a reliable company, get in touch with us at H F Home and Pool Construction Services Pty Ltd as we provide concrete swimming pool renovation in Adelaide where our builders will evaluate the condition of your concrete pool and depending on that we will carry out the renovation work to restore its looks.
In our service, we provide pool resurfacing and painting for commercial and residential areas. If you have a style in mind, our builders will discuss it with you and implement the required strategies to transform your pool so that it looks modern and trendy.
What We Do in the Pool Repairing and Installation Service
We use the latest tools and techniques for the repair, installation and renovation work. In our service, our licenced builders will
Help you to obtain the approvals for the installation, repairing and renovation from your local authorities
Do the excavation work for the installation of the concrete pool along with plumbing
Construct the structure of the concrete pool that will hold the water
Make the structure durable so that it can hold and withstand water pressure without forming surface cracks
Install tiles and do the painting work with precision to give it an attractive look
Give the pool a nice finish that will stay intact with proper maintenance for the years to come
So, if you are planning an installation or repairing of your swimming pool, let our experts handle the job.
High-quality Swimming Pool Repair and Renovation by Experts
If you are searching for a reliable concrete pool builder in Adelaide, H F Home and Pool Construction Services Pty Ltd should be your choice as we house only skilled and licenced builders who are ready to repair, renovate, and install a swimming pool at your property. So, to book a service in a residential or a commercial area, get in touch with us now.